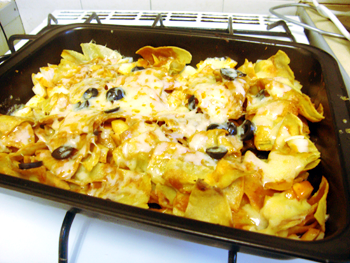 I know what you're thinking. You're thinking: what the heck is that and why would anyone eat it? Well these, my friends, are chilaquiles, one of my favorite Mexican dishes of all time. What they lack in aesthetic beauty they more than make up in tasty-ness.
One of the worst things about living in Glasgow is the severe lack of Mexican food. This is forcing me to learn how to make it myself using my Mother's and Grandmother's recipes, and my own memory. So far I've nearly mastered Mexican style rice, both fish and beef tacos, and tostadas. The easy stuff. My refried beans need work, however. I just can't seem get them right. This was my first attempt at chilaquiles, though, and I'm quite pleased with them. Not quite how I remember my mother's tasting, but close.
If anyone in Glasgow is interested, Lupe Pinto's on Great Western Road is the only place in town (that I know of) to get corn tortillas (essential for chilaquiles, as well as tacos, tostadas, and enchiladas). Tesco and Waitrose both sell something that claims to be corn tortillas, but they're not. Lupe Pinto's also has an awesome assortment of other Mexican ingredients, and quite a bit of American stuff as well. It's a bit of a walk from my flat, but completely worth it.